Cosplay can be described in many ways and it is referred to costume play or role play with anime or video game costumes, comics, pop cultures, movie role, fashion and TV shows. The aim of this attire is not to be a symbol of ideas but to replicate and play the character. During Halloween and Mardi Gras, people do not really live the roles, they just dress up. Cosplay outfits are sold much higher than the Halloween costume in the stores.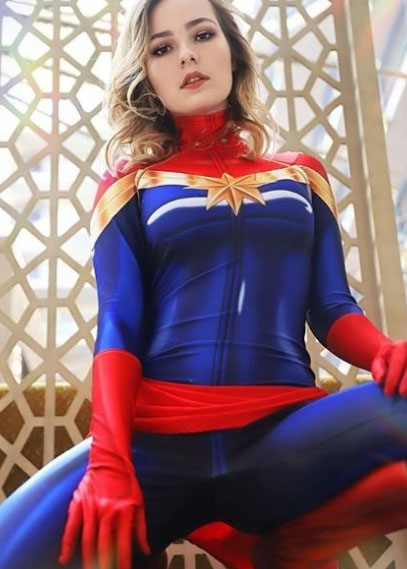 The cosplay outfit can get a detailed variation from an upgraded costume kit to the custom designed by the tailors. Such suits consist of full armour details, attire jewellery, and armaments. Cosplayers will have complete look by the use of wig, adding hair extensions, use of hair dye, contact lenses, temporary or real tattoos and make-up.
We hope all marvel fans enjoyed this year and it is true that 2019 has become a very big delightful year for all Marvel fans. The new sequence to infinity war has begun to show up where all your heroes desperately want to destruct Thanos who wiped off the half of the universe. Some of the missing heroes from the previous part ultimately reunite with the present heroes in order to obtain the mad titan mainly the captain marvel comes to the plot.
Who is the captain marvel?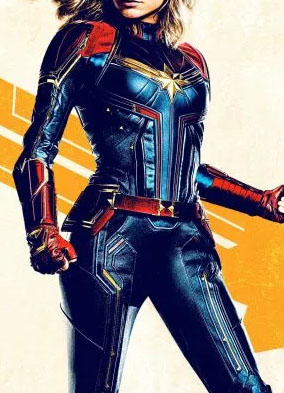 Captain Marvel is an associate of the elite Kree armed forces unit called as star force. Marvel possesses photon power which makes her highly respectable associate of the squad. She faces a continuous resist to manage her unsafe and erratic powers. The Kree soldier, discover herself on the planet earth and she does not have any knowledge that how she get over there. She was finds out by SHIELD agent called as Nick Fury. She faces lots of trouble with disturbing dreams and she began to question her dreams, doubting that her dreams and vision could be existent reminiscences of the past. Eventually, she retains her past, in which she working has a pilot called Carol Danvers. She was a best pilot with quick reflexes and outstanding courage. She possesses vast key strengths like superior piloting ability, superior durability, power, space energy blasts, hacking abilities and so on.
How to desgin your captain marvel cosplay costumes?
Here is the list of item that you required to make the cosplay by yourself for this year Halloween or other cosplay events. The red, blue and gold colour in the captain marvel suit is the primary colour that has a hidden meaning within it which symbolized boldly. Triangles are the most balanced and strongest one attached in a uniform manner. Moreover, the uniform is designed to look more military, for example, she uses boots instead of heels and also strips donate raking. Few marvel jackets are available in online or market stores with screen accurate details which can also be used casually.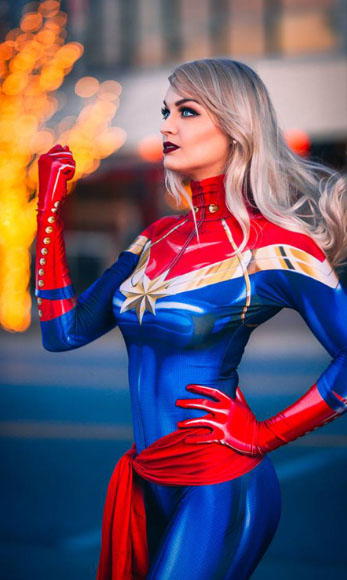 Overall outfit is made up of leather. The headpiece of your choice must be half face mask since she flies with the same across the universe. The red gloves will add more detail and authenticity which also protects you from sunlight. For the bottom part, you can use blue tights or else you can also use navy blue legging which would be still perfect for this outfit if you use a leather one. You need shoes which are durable and sturdy to make you a real Carol Danvers. Make sure that you feel comfortable with it.
It is better to use a red scarf which could be fashionable and stylish. The scarf has multipurpose use, so it is really good to buy. If you want to create a similar look to captain marvel, remember her hair is blonde and the wig is there to do for the more realistic look but it can be optional. Last but not least you need a classical star pin to hold the scarf and be a captain marvel. This could be a little but important one to give a complete look.
Try the combination of this attire to look exactly like captain marvel. Check in reliable online site for best collections and buy it based on your preference.